Hands-on Team Building Events
It seems like finding unique team building activities in Downtown Vancouver for a small group is like finding a needle in a haystack. Not every group company event needs to be about learning to paint or make pastries. For groups less than 20 people, why not treat them to a seminar on how to mix some drinks? If getting everyone on their feet for a couple hours sounds too much like 'work' then we can also do our Intro to Whiskies class for a group of almost any size.
Intro to Bartending Class Event
Get your coworkers together and learn to bartend as a fun team building event. Knowing how to build a few new cocktails is a great way spend an afternoon, and with the school being just a stone's throw from some of Vancouver's best cocktail bars… the party doesn't need to end when your group is done with practicing some new drinks. Keep the party going with a stroll through Gastown for some happy hour beverages at any of the pubs just down the street.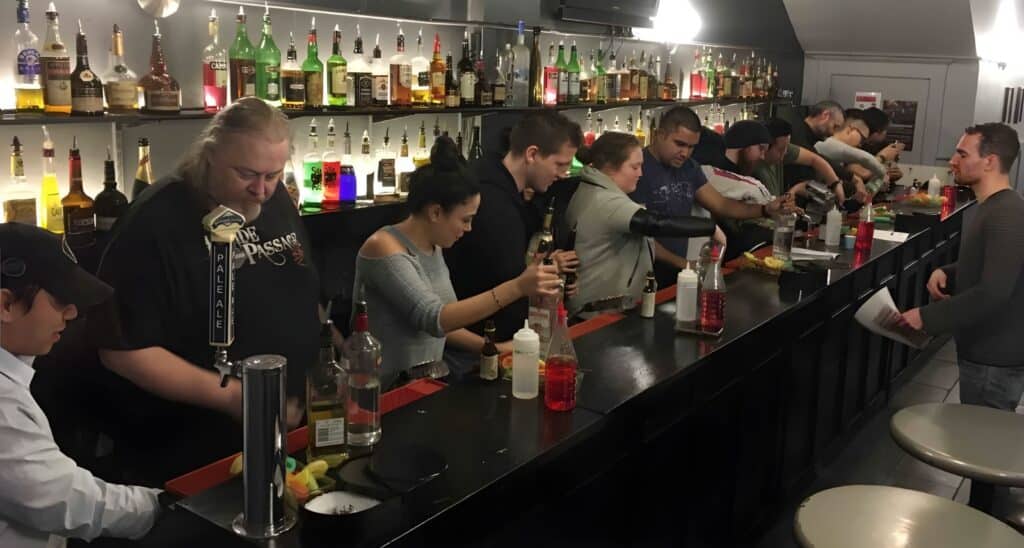 Bartending isn't an easy job, but it can be a fun one. At Fine Art Bartending, we have been teaching bartenders in Vancouver for more than 35 years now. During that time we have identified a few key points that everyone can appreciate. For corporate groups, we have created a straightforward and streamlined 2.5 hour class to run everyone through. ⭐⭐⭐⭐⭐ We took a team of 13 colleagues to a Friday afternoon cocktail making class. Chris was a brilliant teacher and host. We made 12 cocktails in 3 hours, and learnt some great tips and tricks about cocktail making. We'll definitely recommend Chris and Fine Art Bartending School to other teams in work. 
– Alex M. from Hootsuite
⭐⭐⭐⭐⭐ These guys went the extra mile to set up a custom course as a corporate team building event. They are engaging and entertaining instructors and they peppered the course with helpful tips, tricks, and jokes! 
– Wesley C. from Tasktop
What Happens in These Private Events?
For the class… we essentially do the same as what happens in the Intro to Bartending class. Check out our
Intro to Bartending class
page and
an IG video
from one of those classes.
For these private events, you can expect the following
2.5 hours of class time
Proper Pouring Techniques
4 different Methods of Mixing drinks and how 12 classic cocktails come together
An outline of the Major Spirits
Martini Basics and Making Signature Cocktails
This is a very hands-on class and we will have everyone on their feet for the duration of the event. Be ready to have some fun! Closed toed shoes are required for everyone… just in case a bottle or glass is dropped. Safety first!
Who Have You Had For Corporate Groups?
We have had inquiries from many groups over the last few years. No, we can not do groups of 50 or 100. We don't have a lot of space, but we can neatly fit groups of 6 to 24 people. The more the merrier.
For our most recent groups from Toronto Dominion, Intracorp, Tasktop, Cisco, and Scotia Wealth have had a blast during this team building event. Hootsuite and Symmetry Lighting came in for a couple hours for some fun cocktail making too. Teams from Amazon and law firms nearby have also gotten out of the office for a few hours for something different to do. Come learn some of those cocktail basics that everyone can have fun with!
When Can I Book A Time For My Team?
For Team Building Events Monday to Thursday
We typically have our regular Day classes operating from 11-3PM and our Night classes running from 6-10PM. Team building events slot nicely into the 3:00-5:30PM time slot, neatly between that Day and Night Class. It also gives a bit of time to catch the tail end of happy hour!
If you are looking for the Intro to Whiskies class as a fun team event, that is a class we can do at your location. Just give us the time and place and we can coordinate accordingly. All we need is a table and a place to present.
For Team Building Events on Fridays
Friday we are available after 3PM. This means whatever 2.5 hour time slot works for you should also work for us. Again, round up your coworkers and confirm how many might be interested in doing something like a fun bartending class as a team event.
Where is Fine Art Bartending Vancouver?
Conveniently located in Downtown Vancouver, we are on Pender Street between Richards and Homer at 432 W Pender. Only FIVE minutes walking distance from both Skytrain lines, and Waterfront Station. Easy access for anyone already working downtown.
Check out our reviews. Follow us on Instagram. Come by and check out the space. We have classes happening regularly and welcome anyone interested in popping in to say hi. We have former students dropping by all the time to ask a few questions, or even offer some tips to the new students in class.
Teaching individuals on how to be bartenders is our primary motivation. Having fun groups of people come in for a short and entertaining seminars adds something different to the day-to-day educational grind. As a result we have priced these private seminars as follows.
2023 Pricing for Private Corporate Events
We've kept our 2022 pricing going for 2023! For easy math, we do $350+GST for the facility fee and an additional $35+GST per person (minimum 8 people, and maximum 24). If you have a group of 10 people, that would work out to $700+GST for a great 2.5 hour team building event.
Give us a call at 604-873-2811 and leave a message, or send us an email at [email protected]. We will be happy to talk about options for your team building activity, and get your coworkers out from behind a desk and behind the bar making drinks in no time!