Learn about Spirits from Home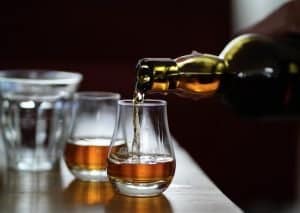 We know not everyone can make it into the classroom these days. That's where the Wine and Spirit Education Trust (WSET) has developed a fantastic program for online learning. WSET has been the authority in training for wine and spirits throughout the world for over 50 years. Anyone dealing with spirits should understand what those spirits are made from and how they are made. From this easy-to-complete online training program, you too can work your way through the comprehensive modules to know the essentials of spirits production.
Learn about spirits, and the differences between them around the world. The raw materials may change from country to country but creating that final spirit is very similar. Adapted techniques from other cultures have resulted in many of the amazing spirits we see in the bottle. Learning how to appreciate colour, flavours and aroma intensity are skills that come with time. WSET has clearly laid out a procedure for understanding how to taste and appreciate a spirit, and that is the focus of the dedicated spirits certification for those interested in distilled products.
Online WSET Spirits Training Moves At Your Pace
Fine Art Bartending is proud to be a WSET's Approved Programme Provider, and one of only a few dozen APP's across Canada! In addition to our in person bartending certificate classes, we worked hard to also add the option for added spirits certification. It's only every couple of months that we do in person classes the Level 1 Award in Spirits. We offer the Level 2 classes typically only a couple times a year. We run that Level 1 class over a single, information packed day with a test at the end of the 8 hour session, and the Level 2 Spirits class happens over 3 very full days.
By signing up for an online version of this training, you can absorb the information in smaller segments. You learn at your own pace, and can take the time between modules to do additional research. Make sure you have everything you need for these online classes first. Start learning, then dive deeper into a particular spirit of interest.